If you're a small business owner, you've probably heard people talk about the important of "backlinks" but it's possible you don't really understand how it fits into your marketing strategy?
What is a backlink?
Put simply – it's a hyperlink to another website. So for example, this is a backlink to our Hesford Media agency website. It's one website linking to another. You've probably seen these hyperlinks in blogs and articles, and they are an essential part of your SEO strategy.
Why are backlinks important?
There are a number of reasons why you want to be considering your backlink profile as part of your marketing strategy, but let's start with the basics.
Improved Domain Authority (DA)
One of the many factors that Google takes into consideration when figuring out where your website should rank in searches, is the authority of your domain. It is said that "Trustworthy websites tend to link to other trustworthy websites" (Moz) and thus, when you have highly authoritative websites referencing you with a backlink – this has SEO value. It improves your own 'Domain Authority' helping you to rank better.
Increased Traffic
If a website with higher traffic than your own website is linking to you, there's a good chance some of their traffic will follow the link into your website.
A link from a top tier publication such as The Metro, The BBC, or Forbes could generate hundreds of visitors every month – and unlike printed press that usually ends up in the bin in a matter of weeks or months, you could be reaping the benefits of that link many years into the future!
Improved Credibility
Are you competitors being referenced by top tier press? If you were planning on working with a new accountant or marketing agency, would you choose the one whose expert advice is sought by The Metro or the one that is completely invisible on the internet?
Are backlinks part of your SEO or PR strategy?
Well actually, it's a bit of both! Digital PR is still relatively untapped as a marketing function – while SEO agencies are often skilled in technical SEO, few would know how to get you featured in The Daily Mail.
Equally, lots of PR agencies have the creative ideas for generating headlines and securing press coverage but they rarely have in-depth knowledge of developing a backlink profile and targeting with a digital campaign.
How do I know if I have any backlinks?
You're probably thinking 'Have I had any backlinks yet?' – it would be a good idea to check your backlink profile, it's possible you've received backlinks you aren't aware of.
Ahrefs have a useful, free backlink checker – access this HERE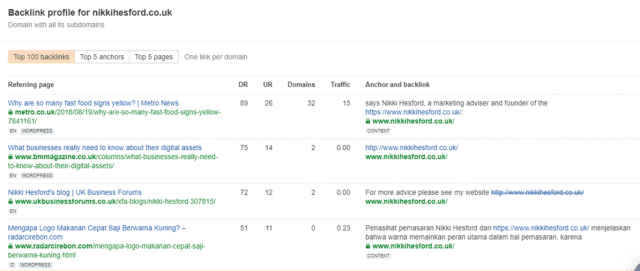 As you can see in the screenshot above – one of our websites has received backlinks from The Metro, Business Matters Magazine and many others.
It is important that the website linking to you has good authority – you can see in the image above, The Metro has a DR (Domain Rating) of 89, Business Matters has a DR of 75. These are high ranking domains.
SEO Agencies often get this very wrong – and you'll often find they've secured you hundreds of backlinks from very low authority websites (DA/DR less than 5) which can sometimes cause your own performance to be harmed more than it is helped. Sometimes, we meet businesses who have paid SEO's on People Per Hour and such like, who have generated hundreds of irrelevant and poor quality backlinks that the business then needs to have Disavowed (submitting a file to Google to 'ignore' the links)
How to get your backlink profile right
DON'T
Pay for backlinks – Google knows!
Spam blog comments with backlinks – it's a waste of time, Google does not pick them up
Pay someone in India to get you 'hundreds' of backlinks for £50!
DO
Create genuinely useful content that people will want to link to and reference
Think of quality over quantity of links
Think about what a publication wants (clue, it isn't that you've been shortlisted for an award or have just opened a shop)
LEARN
There is a lot of useful information out there – Neil Patel and Moz are trustworthy resources of SEO information
The Small Business Academy can provide 1-2-1 Mentoring over Zoom which is £45 per hour