I'm going to share with you a handful of phrases that I hear, probably 10 times a week. You may have said them too…
"We've got a website, but it doesn't bring in any business"
"I only get one, maybe two sales a month from my website"
"We spent a lot of money on our website, but we haven't had any return from it"
Before we progress, lets remember the two fundamental ways in which you win business:
Someone needs the product/service you offer and is looking for it
Someone saw or heard about your product/service and upon finding it, decided they wanted it or needed it.
That is it. That is how sales happen. That it literally what your success or failure boils down to! Being visible and present in the places someone would be searching, or putting yourself in front of people you can seduce into buying.
Most businesses kind of know this, which is why they invest in a website. And some people spend thousands on their website, thinking this will be the Magic Elixir of Marketing – they just need to build it, publish it and ? Boom ? Job done.
I ask them how they will get traffic to their beautiful e̶x̶p̶e̶n̶s̶i̶v̶e̶ new website, and it is clear that was never really a consideration. It will just happen, right? After much pondering they proclaim "Social media" (another Magic Elixir of Marketing….. ?) will get people to their website. It's free! We don't need a marketing budget! And almost everyone has a friends daughter, niece or next door neighbour who has time on their hands and "knows how to do social media"
And yes, if done well, Social Media can be incredibly powerful and effective!
But marketing is more than just Social Media!
Social media is just one piece of the jigsaw and focusing on this area alone is going to mean progress is slow. Slower than you need it to be. Assuming your website is where you expect to convert your leads – relying on free, organic social media traffic alone is going to result in not really getting any enquiries. It takes a long time to grow an engaged following, and you could be out of business by the time this happens if this is your entire marketing strategy.
What other ways do websites acquire traffic then?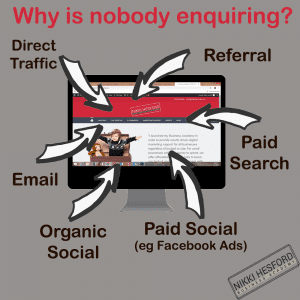 Direct Traffic – This is where someone clicks directly on a link you've given them, or if they have searched your website by name.
Referral – As the name suggests, a chunk of your traffic comes from 'referral links' – this could be bloggers who have mentioned you, local directories or coverage in the press.
Paid Search – Paying to be at the top of Google by running Google Ads
Email – When people click on links from your email campaigns such as Mailchimp 
Organic Social – people who click through to your website from your social media pages, without you paying anything to advertise
Paid Social – such as Facebook Ads, Twitter Ads etc. For most of you, this probably means 'Boosting' posts and hoping for the best. (Read here about Why Boosting posts is a bad idea!) Facebook Advertising can be incredibly effective, when used in the right way – but Boosting here, and sticking some targeting there, is likely going to result in losing you money.
This is why you aren't getting any enquiries
Nobody knows you exist! You don't have a shop window, you're not a famous brand.
Your website does not have enough gravitas with Google, so you're getting nothing from organic search.
You haven't focused on PR and securing links into your website, so you have no referral traffic.
You don't have an email strategy to retain those hard-won leads into lifetime value customers.
You don't have the budget for Paid Search (Google Ads)
You have a small following on Facebook, where posts reach maybe 100 people at a time. You get one or two likes and the odd comment but not a lot of incoming enquiries.
What do you need to do to get more enquiries?
Improve your on-site SEO by reading blogs, doing webinars, attending events. Every little bit helps – it's a process.
Make sure you're listed with Google My Business
Get your PR head on. It doesn't have to be coverage on the BBC News, it might be a local blogger, someone who wants to review your product.
Create a strategy for encouraging lifetime value – email, SMS, loyalty schemes, refer a friend. Its a lot easier to make an existing customer come back, than it is to find a new one.
Network! It's usually inexpensive and sometimes free, and if you have lots of time but not much money, you've got nothing to lose. Even the paid-for networking events usually allow you to visit once for free to try it out.
One of our Courses, specifically written for small business owners (on a small business budget!) might be able to help you gain the skills you need to get more enquiries!