Six weeks into the UK lockdown to 'flatten the curve' and protect lives from Coronavirus, a wave of dissent is beginning to emerge as the real effect of the Covid-19 on small business owners takes its toll.
Sole Directors and Newly Self-employed fall through the gaps
While the Chancellor has laid out generous protective measures for large swathes of the working population, those most likely to fall through the net are the newly self employed and directors of their own company. While a sole director can legally furlough themselves and claim the portion of their salary paid through payroll, the rules state that no work can be undertaken save for statutory legal obligations, such as filing tax returns. While some functions remain a 'grey' area such as paying suppliers and accessing emails, there is no ambiguity over the instruction that activities cannot and must not have the capacity to generate commercial revenue.
This is a resounding 'No' to business development, online meetings, marketing and advertising and for most owner-operators, accepting the terms of a furlough payment means mothballing their business; something they may never recover from.
Today the Chancellor announced it's Bounce Back Loan Scheme, and our study demonstrates why it is going to be a life-line for many small businesses.
This research was undertaken surveying 470 small business owners (under 50 employees) to reveal the shocking effect of Covid-19 on SME's. 48.31% of respondees were from Company Directors, 37.29% from Sole Traders over 1 year of trading, 7.63% from Partnership businesses, 3.39% Sole Traders under 1 year trading, and 3.39% running a 'Side Hustle'.
The surveys were completed with complete anonymity, to prevent untruthful responses.
Data was collected 19th to 24th April 2020.
56.78% of Businesses surveyed have 'little or no' revenue due to Covid-19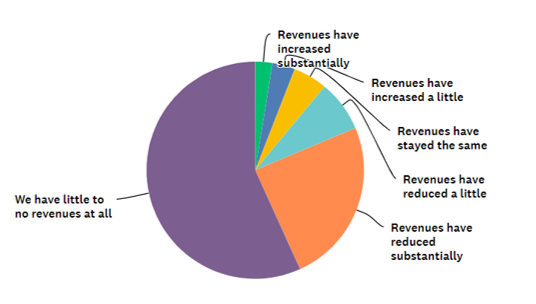 With almost 60% of business owners reporting they have 'little or no' business revenue, and a further 24.45% reporting a 'substantial' lost of revenue – combined this is 81.36% of businesses in serious financial shock.
With the loss of revenue expected to last at least 3 months, and the likelihood that revenues will not return to 'pre-Covid' levels for some time, it is likely that even with the support packages on offer, it will be insufficient if the drop in revenue persists for several months while overheads need to be paid. In relation to personal finances, 30.10% of business owners surveyed have requested a mortgage holiday.
There is however some good news, as a lucky 5.93% report a small to substantial uplift in revenue as a result of Covid-19.
18.10% of SME owners now reliant on State Benefits to survive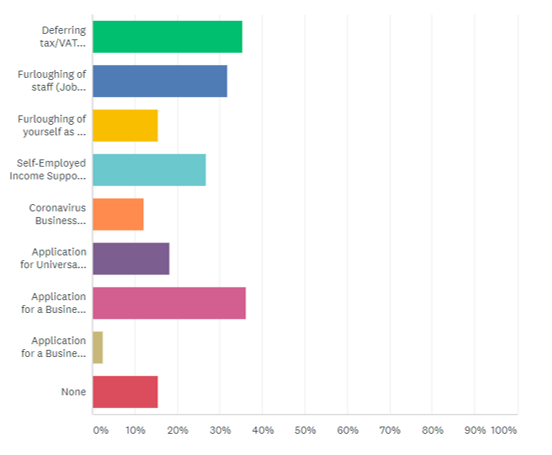 We asked business owners to tell us which financial support measures they have accessed plan to access in the next 3 months, and perhaps the most shocking discovery was that 18.10% of business owners, nearly 1 in 5 who had previously supported their own wages independently are now reliant on Government Welfare.
With 26.72% expecting to access the Self Employed Income Support Scheme, and 15.52% looking to furlough themselves as a director – this leaves a staggering 57.76% without an income, suggesting that a large number are proving ineligible for schemes designed to cover their own personal loss of income.
With only 12.07% accessing or planning to access the Coronavirus Business Interruption Loan Scheme (CBILS), likely in part due to the onerous application process, the requirement of Personal Guarantees or the fact they simply do not know how much to borrow without any guidance on how long the money is required to last.
The announcement on the 27th April by the Chancellor that a Bounce Back Loan Scheme has been launched to support the smallest and most exposed businesses, will be a welcome step indeed for those falling through the cracks of the assistance currently available – however, while the borrowing is 100% underwritten by the Government it is currently unclear whether Personal Guarantee's will be required.
24.58% of Businesses Surveyed tell us there's a 'Good chance' they will have to close
A further 4.23% are certain or almost certain their business will not survive after Covid-19.
This is over a quarter of all small businesses who may cease to exist as a result of the Coronavirus pandemic With 5.9 million privately held businesses in the UK, of which 99% are considered SME's this could equate to over 1.5m small businesses that cease trading as a direct result of the virus.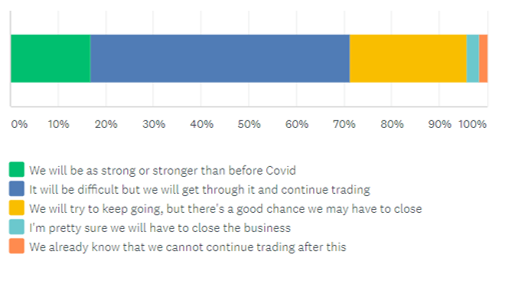 However there are more positive statistics to emerge from the data, with 16.95% of businesses telling us they will be as strong, or stronger than before, and a more conservative 52.24% who acknowledge the rocky road ahead but believe they will survive the course.
With brand new Universal Credit Applications hitting 1.4 million by the 14th April 2020, many are duly concerned that the exit of a large number of fiscal contributors, to be replaced by a large number of welfare claimants may have catastrophic economic repercussions for many years to come.
Business owners plan to restructure to survive
We asked our respondents what changes they would be making to their business as a result of Covid-19 and 18.18% told us they would be reducing staff numbers to become a leaner organisation, and 13.13% said they would look to outsource functions that were currently delivered in-house such as Marketing, HR, IT and admin.
This shows that the impact on businesses will almost certainly have a knock-on effect as employee's who have currently been retained under the Job Retention Scheme, may face losing their role to a more cost-efficient solution (In-House or Agency, compare the costs)
Social Impact also a cause for concern
The Office for National Statistics (ONS) on the 23rd April published further analysis of the business and social impacts of the Coronavirus pandemic.
This is the third in their series of reports on the impact of the pandemic on people and households. The findings cover the period 3-13 April, and show that:
Adults continue to report being very/somewhat worried about the effect of the pandemic (84.8%). The most common concern was their ability to make plans with over half (52.5%) saying this had been affected. This was followed by the effect on their well-being, (the most mentioned concern last week)
Of adults with a dependent child, 70.9% said they had homeschooled their child or children in the past seven days. Of those, over half (52%) agreed they were confident in their ability to homeschool. A quarter (26%), however, were less confident about this. Moreover, 41.6% said homeschooling was having a negative effect on their job, 29.8% said it was adversely affecting their well-being, and 50.2% said it was having a negative effect on children's well-being.
Impact on Parents who run a business
With no clear indicators of when schools may return, but speculation that non-essential office roles may begin to return in the coming weeks this poses further complications for business owners with children who cannot go back to running their business, even if they are permitted to.
There are suggestions that schools may return on a part-time basis, or for certain year groups leaving a vacuum of freelancers, tradespeople, start-up business owners and company directors physically unable to earn a living while they are required to care for children in the home, and the Government income schemes (if they are eligible) only in place for 3 to 4 months.
With these caregivers unlikely to access childcare for six months, there is a further challenge of how these parents will be supported financially when the rest of the country goes back to work.
If you would like to know more about The Small Business Academy and our role in supporting small businesses you can Contact Us here