If you are looking for Meeting Room hire in the Blackpool, Lytham or Preston area The Small Business Academy we have a number of different meeting room and training room options accommodating up to 18 people (please note this may be between 6-12 depending on social distancing guidelines yet to be finalised)
We can provide excellent value hot and cold buffet options for your guests, and with plenty of Free parking, Ultrafast Fibre, Projector/Laptop use and tea and coffee included in the advertised rates, we hope you will consider us for your next event!
Get in touch to come and view anytime!
Venue hire is available Evenings and Weekends upon request (no additional cost)
Meeting Room Pricing
| RATE CARD | Dedicated DeskResidents | Hot DeskResidents | Non-Residents |
| --- | --- | --- | --- |
| Small Meeting Room (2-5 People) | FREE | FREE | £4.00 |
| Boardroom (6-10 People) | FREE | £4.00 | £5.00 |
| Training Room (14-22 People) | £6.00 | £6.00 | £12.00 |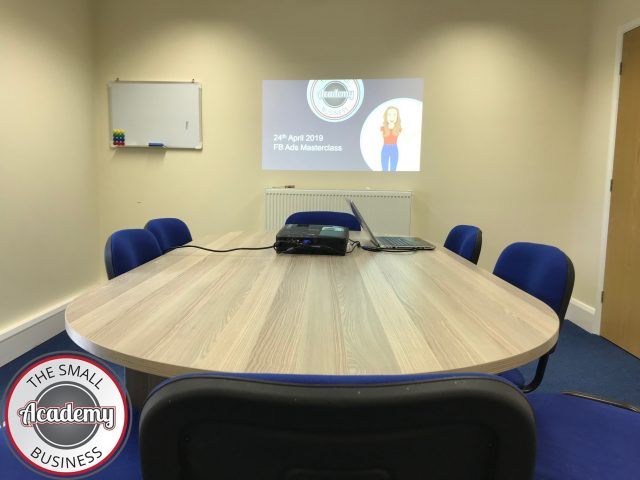 Our Boardroom holds up to 8 people (please note this is likely to be reduced to 4 people with social distancing measures in place) and is FREE to use for hot desk and dedicated desk residents.
There is no additional cost for the use of our projectors, laptops and flip charts and tea and coffee is provided too.
With plenty of parking and easy traffic-free reach of the M55 at Blackpool, our meeting rooms are a great choice for anyone looking to hold client meetings, interviews or training sessions on the Fylde coast
Social Distancing Measures (COVID-19)
We are currently working to a 2 meter social distancing recommendation, however this may be changed based on government advice as it evolves.
You will be provided with hand sanitiser, and antibacterial wipes for use in your meeting or training room and nitrile gloves are available on request.
Hands must be sanitised with antibacterial wash provided before using the coffee/water machine or dispensing tea and coffee from canisters.